In March I prepared a paper on Harry Small for the Scottish Church History Society Spring conference in Stirling, but I wasn't able to give the paper owing to Covid-19 precautions. I'm still planning to submit a slightly modified version of that paper for publication, but I'd like to write something simpler about Harry Small on this website too.
This is partly because it occurred to me that I haven't written very much about Pentecostalism here, so a short piece on this important Anglo-Scottish Pentecostal Pioneer would help redress the balance. His initial connection with Cecil Polhill came as a fellow member of the Pentecostal Missionary Union, but he and Polhill seem to have developed a close personal friendship as well. The two men had much in common: both were from military families, both were former missionaries and both lived on "independent means."
Figure 1. Announcement of the Establishment of the PMU in Confidence.
David Henry "Harry" Small was born in Kensington in 1866 to David Henry senior (a military surgeon) and Isabella.[1] His father was Scottish, so David was baptised in Saint Paul's Presbyterian Church in Kensington.[2] By 1881, aged fifteen, he was at boarding school at the seaside town of Sandgate, in Kent.[3] Ten years later Harry was working as a Civil Engineer, but this would prove to be a short-lived career.[4] Two years later he married Jeanetta "Netta" Green, another Londoner, and by 1901 he was "living on own means" and could be found visiting the Welcome Coffee House in the tiny village of Misterton (almost certainly something to do with the Temperance Hall in the village), in Nottingham.[5] This probably marks Harry and Netta's entrance into fulltime Christian ministry.
This would explain why, by 1905, he lists his affiliation on Scottish property records as the Christian Police Association (CPA).[6] The CPA had been established in 1883 by Catherine Gurney, a Quaker, to pray and intercede for police officers, to build convalescent homes for sick and wounded police officers, to provide orphanages for the children of deceased officers and to provide a source of fellowship for evangelical police officers.[7] International branches of the CPA sprung up all over the world, so it is not unlikely that it was through the CPA that the Smalls came to consider international mission. Between 1905 and early 1908, they were based in Johannesburg, South Africa with the South Africa General Mission (a Holiness mission established by Andrew Murray).[8] "We are looking forward to a visit from Mr and Mrs Small," wrote Douglas Wood to the CPA's periodical On and Off Duty, "and would ask the prayers of friends at home that God will greatly bless their visit to this city and enable us, through their presence amongst us, to get into touch with many more of our brothers in the Force."[9] It was probably through the same missionary networks (particularly missionary periodicals), that the Smalls would have learned about the Pentecostal Movement.
By early 1908, the Smalls were in East Wemyss, Scotland. How they came to be based in a small village in Scotland is explained by Harry's grandfather, Dr James Small. James had arrived in East Wemyss almost a century earlier, in 1817, and worked as the village doctor and medical officer for the parish for fifty years. He bought a large house known as the Haugh, where Harry's father was born before he too entered a career in medicine. James, like his grandson, seems to have been something of an Evangelical as well. According to the Village Register of East Wemyss:
In the year 1843 a hall in the north side of the village the property of Dr [James] Small, surgeon was occasionally used on sabbath evenings for public worship conducted by ministers of various denominations, then 'the disruption' of the Church of Scotland took place [a large party of Evangelicals broke away from the Church of Scotland and formed the Free Church], in May of that year ministers of the Free Church were applied to and gave their services regularly, the free Presbytery of Kirkcaldy assisted in keeping up the services the numbers attending them gradually increased and on the 16th of November of that year a unanimous call was given to the Rev George F. Knight then minister of Mordington, Berwickshire to be their pastor, the settlement took place in March 1844 the congregations still meeting in the hall. In November 1843, however, a piece of land at the western extremity of the village...was given as a site for a Free Church...it was finished in May 1844.[10]
So while Harry was technically English, he had deep roots in Scotland, and indeed spent much of his time in East Wemyss from 1908 onwards. In October 1908 an early coordinator of British Pentecostalism, the Anglican Rev. Alexander Boddy, reported in his Confidence periodical that the Smalls were leading a "real band of intercessors" in East Wemyss.[11] It is possible that Harry was emulating his grandfather with a kind of informal, nondenominational, assembly in the village. Harry went on to become a founding member of the Pentecostal Missionary Union (PMU) in 1909, and from then on split his time between East Wemyss and the South.[12] He and the PMU's president, Cecil Polhill, seem to have gone on to become good friends. For example, Harry and Netta were living in a cottage on Polhill's estate for a time, and he and Polhill travelled to China together with the first contingent of PMU missionaries in 1910-11.[13] It was this trip to China that would become key to identifying a photograph of Harry.
Most of the material in the Polhill collection is pre-1907. It is not entirely clear why this is the case, since Cecil lived to 1938, but hitherto I have been under the impression that the only significant exception to this is the financial records (which go up to 1914). It was only natural then, that I would assume that a collection of photographs of scenes from China and India in an unannotated mounted album, belonging to Cecil, was also pre-1907, but that has proved not to be the case. Some of the photos in this album do indeed appear to be pre-1907, but there are tell-tale signs from the other photos indicating a later date.
Figure Two. Missionary Group, Dazhou, Sichuan (c.1910).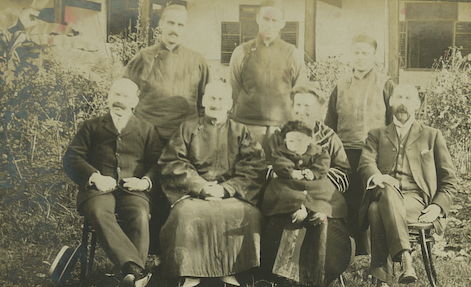 Front Row (left to right): Cecil Polhill, Arthur Polhill, Agnes Polhill (holding Edward Polhill) and Harry Small.
For example, there is a group photo depicting Cecil, his brother Arthur, Arthur's wife (Agnes), and a bearded man (figure two). The key to dating this photograph is that the woman photographed is actually Arthur's second wife, Agnes, whom he married in 1908. This means the photo must be from one of Cecil's post-1908 visits to China. Another clue to identifying Harry is that the bearded man from this photo appears in another group photo with Cecil, but this time accompanied by another of his old Cambridge Seven friends, Stanley Peregrine Smith (1861-1931). There is only one man who is on the record accompanying Cecil to both Jincheng, Shanxi (Smith's station) and Dazhou, Sichuan (Arthur's station), and that man is Harry Small. By a process of elimination then, the bearded gentleman is none other than Mr Harry Small.
Figure 3. Missionary Group, Jincheng, Shanxi (1910).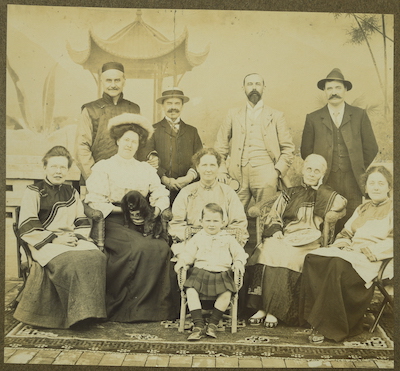 Back Row (left to right): Stanley Smith, Cecil Polhill, Harry Small and Unidentified Missionary.
By 1920 things had soured somewhat between Polhill and Small. Small refused to denounce two of the PMU's female missionaries in India over an issue of theological controversy. Polhill did not take kindly to this and asked Small to resign. He and Netta continued to lead a little independent Pentecostal congregation in East Wemyss until her death in 1948 and then he continued alone until his own death in 1954.[14] An interview with Harry a few years before he died, settles the matter of his identity beyond doubt. Here he is from The Fifeshire Advertiser with the same distinctive pointed beard he had donned almost forty years earlier.
Figure 4. Profile from The Fifeshire Advertiser, (5 November 1949).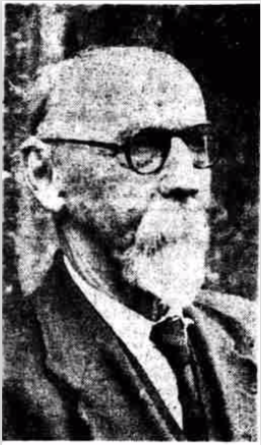 Figure 5. Close Up from Figure 3 (1910).
Harry may not be as significant as some other early Scottish Pentecostal leaders, but his little assembly is fondly remembered in East Wemyss in print and in living memory. I think Andrew Murray summed it up well after the Smalls returned to Scotland from South Africa in 1908, "Mr and Mrs Small have been visiting various centres in Scotland, and have been channels of blessing to many. It is impossible to calculate the far-reaching effects of one drawing-room or public meeting, held in the power of the Holy Ghost."
[1] 1871 England Census, s.vv. "David H. Small" (census records are available on www.ancestry.co.uk, hereafter abbreviated to Ancestry).
[2] London, England, Non-conformist Registers (1694-1931), s.vv. "David Henry Small," Ancestry.
[3] 1881 England Census, s.vv. "David H. Small," Ancestry.
[4] 1891 England Census, s.vv. "David Hy Small," Ancestry.
[5] England & Wales, Civil Registration Marriage Index, 1837-1915 (April-May-June, 1893), s.vv. "David Henry Small," Ancestry; 1901 England Census, s.vv. "David Hy Small," Ancestry. The Temperance Hall can be seen on this Ordinance Survey Map of Misterton, (Nottinghamshire IV.SW, 1885), National Library of Scotland: https://maps.nls.uk/view/101602071 (last accessed April 2020).
[6] Valuation Rolls (1905) VR010100051-/510, FIFE COUNTY,p510. s.vv. "Small, David Henry." My sincere thanks to Mr Harry Ferguson, Customer Service Officer at the National Records of Scotland for his help in locating these records.
[7] Don Axcell, Where Duty Calls: Building Bridges of Hope Over 130 Years (DEAX Publishing, 2016), p26.
[8] December 1907 seems to be the last entry from the Smalls that presupposes they are still in South Africa; by April 1908 they were back in Scotland. South African Pioneer Vol.20/No.12 (December 1907), p252 and Vol.21/No.4 (April 1908), p50. These periodicals (and others) are available on the SIM (formerly Sudan Interior Mission, with which the South Africa General Mission [under their new name of Africa Evangelical Fellowship] merged in 1982) website http://archives.sim.org (last accessed April 2020).
[9] They seemed to have retained a connection with the CPA, as their activity in South Africa was reported in the CPA's periodical On and Off Duty. Axcell, p45.
[10] Walter Ness, Village Register of East Wemyss (n.a), unpaginated. My thanks to Miss Pamela Cranston, Archivist of the Save Wemyss Ancient Caves Society, for her most helpful assistance in researching the Small family history in East Wemyss (see: https://wemysscaves.org/about-us/).
[11] Confidence, Vol.1 No.7 (October 1908), p16.
[12] Confidence, Vol.2 No.1 (January 1909), p13.
[13] Census of England and Wales, 1911, s.vv. "Small, Harry," Ancestry.
[14] England and Wales, Civil Registration Death Index (1948), s.vv. "Alice E.[sic] Small," Ancestry.
[15] South African Pioneer Vol.21 No.4 (April 1908), p50.
* The Fifeshire Advertiser is available at the British Library Newspaper Archive Online (https://www.britishnewspaperarchive.co.uk/).